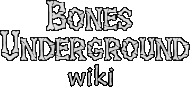 Welcome to the Official Bones Underground Wiki
Bones-Underground Wiki is a collaborative website about BU that anyone can edit.


Game News
24/12/20: Holiday events have begun! Check in on the BU Discord page or in game for more information. We will try to keep the wiki updated as new content is added!
05/06/20: BU has released Version 32: Crestfall! Come check out all the new content and changes!
02/24/17: BU now has an official Discord Server! Join it now at discord.me/bones
01/04/17: Yet another patch is now available as part of our ongoing 12 Days of Christmas event! Use the BU Patcher, or download the latest client on the Downloads page.
Join Bones Underground Wiki
Official Discord
Join our official Bones Underground Discord channel to connect with the community. The Discord channel is also a great way for players to get help from others.