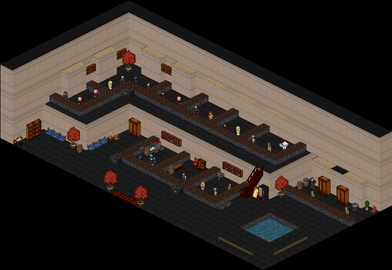 Overview of the Guide

[

]
Below is a complete guide (last updated for Version 32) for all of the crafts in Bones Underground (crafting is the act of using an NPC to combine 2 or more items to make a new one).
The main purpose of this guide is to provide an easier way to view the large-scale crafting system that takes place in this game, so below you may find that the only items that are linked, are crafts inside of crafts.

Weapons and Armors are split in to 2 sections: Main Chain (components of the large crafting chain) and Side Crafts (components of separate or individual crafts that are not included in the Main Chain).




Weapons

[

]
Side Crafts

[

]
Tracy's Long Sword (Only available to craft during Piss Off event)
35 White Wool, 35 Spider Silk, 25 Twigs
3 Scroll of Distant Lands, 3 Dragon Bow, 3 Ancient Throwing Star, 3 Heart Seeker
Everglade Bow, 100 Jorogumo Rag, 50 Jorogumo Silk, 25 Jorogumo Legs
Main Chain:

[

]
25 Valiant Metal, 12 Tainted Shroud
2 Blunt Object, 1 Half-Blood Sword, 3 Tetsaiga
50 Dragon Claw, 50 Dragon Wing
1 Knight's Honor, 1 Amaterasu, 1 Infinity, 1 P Hammer
12 Giant Purple Saber, 8 Fallen Angel Blade, 8 Fire Demon Scepter, 1 Mihawk
2 Arch Mage Staff, 3 Fallen Angel Blade, 15 Limb Cleaver, 1 Necro Blade
12 SQB2 Face Plate, 12 SQB2 Bolt, 24 SQB2 Energy Core, 24 Polished Metal
3 Monstrosity Rib, 3 Monstrosity Gloves, 3 Soul Eater Hood
1 Sacred Anchor, 2 Rebel Hat, 3 Skeleton Scythe, 1 Arctic Blade
50 Blue Star, 25 Jelly, 3 Jelly Staff, 1

Rebel's Grin
15 Guardian Blade, 15 Stone Blade, 15 Axe of Eden, 1 Deep Ozean
100 Barbarian Fur, 50 Barbarian Horn, 20 Barbarian Skull, 1 Bone of Bone
Male Armors

[

]
Side Crafts:

[

]
10 Golden Egg, 5 Old Treasure Map
25 Golden Egg, 12 Old Treasure Map
10 Ectoplasm, 10 Ghost Sheet Strip, 10 Potion of Terror
100 White Wool, 100 Black Wool, 2 Rogue
2 Charred Arm of the Lich, 30 Eye of the Lich, 30 Vertebrae of the Lich, 100 Black Wool
50 Jorogumo Rag, 25 Jorogumo Silk, 12 Jorogumo Legs, 2 Jorogumo Eyes
Main Chain:

[

]
15 Valiant Metal, 15 Valiant Shroud
1 Misuto, 1 Wayfarer M, 1 King's Robes, 1 Valiant
1 Winter Jacket M, 1 Platinum M, 1 Crimson M, 1 Nemesis
4 SQB2 Face Plate, 4 SQB2 Bolt, 1 Ikarim
35 Hell Raiser Robe, 10 Royal Armor, 5 Merlin, 1 Caelic M
150 Snail Spike, 10 Snail Shell Fragment, 50 Snail Battle Plate M, 1 Rigor
1 Thanatic Robes M, 2 Thanatic Hat, 3 50 Shades M, 1 Arctic M
50 Jelly, 10 Divine M, 3 Jelly Cap, 1 Rebel
100 Leaves, 50 Guardian Plate M, 75 White Wool
100 Hone-Onna Bone, 85 Black Wool, 1 Caelic M
Female Armors

[

]
Side Crafts:

[

]
10 Golden Egg, 5 Old Treasure Map
25 Golden Egg, 12 Old Treasure Map
10 Ectoplasm, 10 Ghost Sheet Strip, 10 Potion of Terror
100 White Wool, 100 Black Wool, 2 Rogue F
2 Charred Arm of the Lich, 30 Eye of the Lich, 30 Vertebrae of the Lich, 100 Black Wool
50 Jorogumo Rag, 25 Jorogumo Silk, 12 Jorogumo Legs, 2 Jorogumo Eyes
Main Chain:

[

]
15 Valiant Metal, 15 Valiant Shroud
1 Misuta, 1 Wayfarer F, 1 Queen's Robes, 1 Valianta
1 Winter Jacket F, 1 Platinum F, 1 Crimson F, 1 Nemesista
4 SQB2 Face Plate, 4 SQB2 Bolt, 1 Ikari
35 Hell Raiser Dress, 10 Royal Dress, 5 Merlina, 1 Caelic F
150 Snail Spike, 10 Snail Shell Fragment, 50 Snail Battle Plate F, 1 Rigora
1 Thanatic Robes F, 2 Thanatic Hat, 3 50 Shades F, 1 Arctic F
50 Jelly, 10 Divine F, 3 Jelly Cap, 1 Rebela
100 Leaves, 50 Guardian Plate F, 75 White Wool
100 Hone-Onna Bone, 85 Black Wool, 1 Caelic F
Back-Equipment

[

]
10 SQB2 Face Plate, 10 SQB2 Bolt
20 Red Rose, 1 Duelist (Secondary), 1 Frost Arrows, 1 Aurei Arrows
100 Jorogumo Rag, 50 Jorogumo Silk, 25 Jorogumo Legs, 3 Jorogumo Eyes
10 Valiant Metal, 10 Tainted Shroud, 10 Legion Shield, 10 Jade Shield
Helmets

[

]
5 Ectoplasm, 5 Ghost Sheet Strip, 15 Pumpkin Seeds, 30 Potion of Terror
5 Ectoplasm, 5 Ghost Sheet Strip, 10 Potion of Terror
15 White Wool, 15 Black Wool
2 Luna Scarf, 50 White Wool, 50 Black Wool
Keek's Hat
50 Twigs, 100 White Wool, 100 Black Wool, 1 Keek's Ribbon
1 Charred Arm of the Lich, 15 Eye of the Lich, 15 Vertebrae of the Lich, 50 Black Wool
50 Jorogumo Rag, 25 Jorogumo Silk, 12 Jorogumo Legs, 2 Jorogumo Eyes
5 Valiant Metal, 5 Tainted Shroud, 10 Slime Crown
2 Valiant Helm, 2 Island Cap, 2 Dark Sam, 2 Demia Hood
30 Twigs, 50 Guardian Helm, 50 Leaves, 30 White Wool
50 Snail Spike, 5 Snail Shell Fragment, 5 Snail Tooth, 1 Caelic Helm
50 Barbarian Fur, 25 Barbarian Horn, 10 Barbarian Skull, 1 Caelic Helm
Boots

[

]
10 Valiant Metal, 10 Tainted Shroud, 10 Silver Boots, 10 Gold Boots
10 Greek Sandals, 10 Crimson Boots, 10 Platinum Boots, 2 Valiant Boots
50 Snail Spike, 5 Snail Shell Fragment, 5 Snail Tooth, 1 Caelic Boots
50 Barbarian Fur, 25 Barbarian Horn, 10 Barbarian Horn, 1 Caelic Boots
Accessories

[

]
Valiant Set:

[

]
5 Valiant Metal, 5 Valiant Shroud, 10 Elite Samurai Belt, 10 Greffen Belt
4 Valiant Metal, 1 Tainted Shroud, 10 Ancient Bracelet, 10 Greffen Bracelet
4 Valiant Metal, 1 Tainted Shroud, 10 Bone Bracer, 10 Greffen Bracer
5 Valiant Metal, 5 Tainted Shroud, 10 Ancient Necklace, 10 Greffen Necklace
5 Valiant Metal, 5 Tainted Shroud, 10 Penguin Gloves, 10 Greffen Gloves
4 Valiant Metal, 1 Tainted Shroud, 10 Ancient Ring, 10 Greffen Ring
Blood Feast Set:

[

]
10 Queens Belt, 10 Greffen Belt, 10 Wicked Belt, 2 Valiant Belt
1 Star Ring, 10 Golden Fat Ring, 10 Wicked ring, 2 Valiant Ring
Caelic Set:

[

]
Arctic Set:

[

]
Everglade Set:

[

]
20 Twigs, 20 Leaves, 20 Shrapnel, 1 Arctic Jewel
Pets

[

]
100 White Wool, 100 Black Wool
20 Dragon Skull, 200 Dragon Claw, 200 Dragon Wing
30 Slime Ball, 15 Slime Crown, 15 Slimy Metal
35 Spider Eye, 80 Spider Silk, 10 Eye of the Lich, 10 Vertebrae of the Lich
Death's Skull
Other

[

]
100 Ancient Artifact, 100 Copper Crystal
100 Ancient Artifact, 100 Iron Crystal
100 Ancient Artifact, 100 Gold Crystal
100 Ancient Artifact, 100 Ice Crystal
100 Ancient Artifact, 100 Lava Crystal
100 Ancient Artifact, 100 Titanium Crystal
Seasonal Items

[

]
Valentines Crafts:

[

]
150 Vial of Pure Love, 15 Red Rose, 5 Angels Bow, 100 Spider Silk
100 Vial of Pure Love, 3 Red Rose, 50 White Wool, 50 Black Wool
100 Vial of Pure Love, 3 Red Rose, 50 White Wool, 50 Black Wool
50 Vial of Pure Love, 3 Red Rose, 25 White Wool, 25 Black Wool
50 Vial of Pure Love, 3 Red Rose, 25 White Wool, 25 Black Wool
125 Vial of Pure Love, 10 Red Rose, 10 God Wings, 100 White Wool
Easter Crafts:

[

]
Easter Branch
Easter Bunny's Scarf
100 Easter Egg, 50 White Wool, 50 Black Wool
100 Easter Egg, 15 Red Rose, 50 White Wool
250 Easter Egg, 50 White Wool, 50 Black Wool
250 Easter Egg, 50 White Wool, 50 Black Wool
Halloween Crafts:

[

]
50 Spider Silk, 30 Black Wool, 30 Pumpkin Seeds, 1 Halloween Cat Hat
1 Dark Tuxedo, 5 Ghost Sheet Strip, 75 Undead Blood, 1 Hallowed Scarf
1 Blood Lady, 5 Ghost Sheet Strip, 75 Undead Blood, 1 Hallowed Scarf
1 Zombie M, 10 Ectoplasm, 1 Ghost Sheet M, 100 Undead Blood
1 Zombie F, 10 Ectoplasm, 1 Ghost Sheet F, 100 Undead Blood
5 Ghost Sheet Strip, 45 Bandage, 45 Undead Blood, 1 Hallowed Scarf
5 Ghost Sheet Strip, 45 Bandage, 45 Undead Blood, 1 Hallowed Scarf
Pumpkin Protector
30 Pumpkin Basket, 30 Pumpkin Helm, 30 Pumpkin Seeds
Christmas Crafts:

[

]
20 Gingy B.Cookie, 100 Snow, 10 Santa, 20 Corrupted Santa
20 Gingy B.Cookie, 100 Snow, 10 Santess, 20 Corrupted Santess
2 Baru, 10 Gingy B.Cookie, 100 Candy Cane, 100 Candy Cane Protector
2 Baruta, 10 Gingy B.Cookie, 100 Candy Cane, 100 Candy Cane Protector
10 Gingy B.Cookie, 50 Candy Cane, 50 Candy Cane Protector, 75 Snow
100 Ornament, 5 Arctic Jewel, 25 Cold Heart, 100 Snow
1 Auri Boots, 50 Ornament, 1 Arctic Jewel, 5 Gingy B.Cookie
10 Dark Sam, 50 Ornament, 1 Arctic Jewel, 5 Gingy B.Cookie
1 Aurian, 100 Ornament, 2 Arctic Jewel, 5 Gingy B.Cookie
1 Auria, 100 Ornament, 2 Arctic Jewel, 5 Gingy B.Cookie
5 Arctic Jewel, 3 Snowmans Helm, 200 Snow, 50 Ornament
10 God Wings, 5 Arctic Jewel, 3 Snowmans Helm, 200 Snow
200 Pengy Meat, 200 Snow, 100 White Wool, 3 Tiny Santa Hat
200 Pengy Meat, 200 Snow, 100 White Wool, 3 Tiny Santa Hat
1 Baru, 10 Gingy B.Cookie, 100 Pengy Meat, 1 Christmas Cat Hat
1 Baruta, 10 Gingy B.Cookie, 100 Pengy Meat, 1 Christmas Cat Hat
5 Gingy B.Cookie, 70 Pengy Meat, 1 Christmas Cat Hat
150 Snow, 1 Corrupted Santa Hat, 1 Santa Hat
200 Pengy Meat, 200 Snow, 50 Pengy Pigment, 3 Tiny Santa Hat