Downloading and Installing 
[
]
Getting started with Bones Underground is very easy and begins with downloading the client from the official website. Download the .ZIP and extract the BU folder to your computer.
There is no installation required - you simply double click client.exe to start the game.
Account Creation
[
]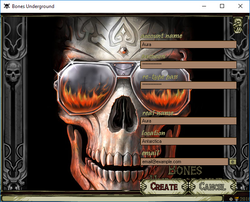 After launching client.exe, the game will open and four buttons should be displayed on the left side of the screen. If this is your first time playing, press 'Create Account' and fill in the fields.
Remember to put in a real name and email address so that your account can be recovered if you lose control of your account.
Press 'Create' and then wait up to two minutes for your account to be created. Congratulations! You can now log in with your credentials and make your first character.
Character Creation
[
]
After signing into your account, press 'Create' below the empty slots on the right side to create your first character. You can make up to three characters per account. An interface will open that allows you to select a username and customization options for your character, including gender, hair, hair color, and race. You can always change these options later, however, changing your name requires a Name Change Ticket which takes quite some time to make.
Once you are satisfied with your selection, press 'OK' and then 'Login' beside your new character to start your adventure!